Hello Hello!
September is an exciting month and I am unfortunately publishing this late but better late than never right?
September seems to be a busy month in the YA/Fantasy book world and with me finishing The Stormlight Archives in a day or two I'll need some more books to occupy my time… I always need more books to occupy my time to be honest. Which is not to say I have nothing to do but that I am book obsessed (bobsessed? Booksessed?) and feel really uncomfy without at least and I'm being serious now, about 10+ books on my immediate physical TBR pile (with the release of one of the books on this list today I am down one!). I'm sure other booksessed people can relate.
Empire of Storms – Sarah J. Maas (Throne of Glass, 5)
The long path to the throne has only just begun for Aelin Galathynius. Loyalties have been broken and bought, friends have been lost and gained, and those who possess magic find themselves at odds with those don't.
As the kingdoms of Erilea fracture around her, enemies must become allies if Aelin is to keep those she loves from falling to the dark forces poised to claim her world. With war looming on all horizons, the only chance for salvation lies in a desperate quest that may mark the end of everything Aelin holds dear.
Aelin's journey from assassin to queen has entranced millions across the globe, and this fifth installment will leave fans breathless. Will Aelin succeed in keeping her world from splintering, or will it all come crashing down?
Out today!!! I don't think I could be anymore excited for this book!! Maas has created a captivating badass who cares as little as is humanly (or fae-ly) possible about how you think she should be. She started off as this spunky but broken individual and over the course of the last 4 books we have watched her grow from a cocky heartbroken assassin to an actual Queen who will take no shits from anybody, no matter how important you think you are. She totally embodies the whole "FIGHT ME!" meme and I absolutely lovelovelove her to pieces.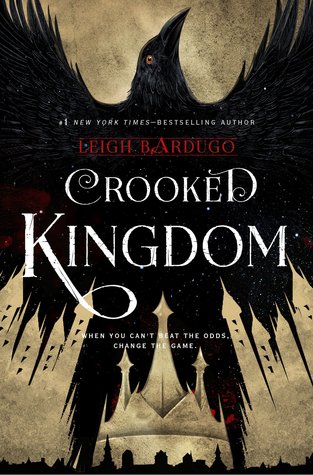 Crooked Kingdom (Six of Crows, 2)- Leigh Bardugo 
Kaz Brekker and his crew have just pulled off a heist so daring even they didn't think they'd survive. But instead of divvying up a fat reward, they're right back to fighting for their lives. Double-crossed and left crippled by the kidnapping of a valuable team member, the crew is low on resources, allies, and hope. As powerful forces from around the world descend on Ketterdam to root out the secrets of the dangerous drug known as jurda parem, old rivals and new enemies emerge to challenge Kaz's cunning and test the team's fragile loyalties. A war will be waged on the city's dark and twisting streets―a battle for revenge and redemption that will decide the fate of the Grisha world.
Oh my my my. Kaz Brekker is an interesting one. I was obsessed with the Grisha Trilogy for a while. I loved the idea of these magical manifestations. It was all just so cool and the world everyone lived in was so full of its own stories and mythologies, it was so engrossing! So when I heard about another book set in this world with different characters who didn't possess Grisha magic I was curious, not curious enough to start straight away however, but I did eventually and I do not regret my decision to dive back in which makes me superrrr excited to devour this book.
 Three Dark Crowns – Kendare Blake
Three dark queens
are born in a glen,
sweet little triplets
will never be friends
Three dark sisters
all fair to be seen,
two to devour
and one to be Queen
Every generation on the island of Fennbirn, a set of triplets is born: three queens, all equal heirs to the crown and each possessor of a coveted magic. Mirabella is a fierce elemental, able to spark hungry flames or vicious storms at the snap of her fingers. Katharine is a poisoner, one who can ingest the deadliest poisons without so much as a stomachache. Arsinoe, a naturalist, is said to have the ability to bloom the reddest rose and control the fiercest of lions.
But becoming the Queen Crowned isn't solely a matter of royal birth. Each sister has to fight for it. And it's not just a game of win or lose…it's life or death. The night the sisters turn sixteen, the battle begins. The last queen standing gets the crown.
I have never read anything by Kendare Blake and I'm wondering why to be honest, her books look awesome and I have been told about Anna Dressed in Blood and that maybe I should try and see if I like it. Anyway I heard this mentioned at YALC a few months ago and I'm dying to see what happens! Also the cover and the idea of a death match to win the crown intrigues me… Its just a little barbaric but I so want to see what happens here! (Also that cool poem at the start of the blurb. It sounds like a messed up nursery rhyme.)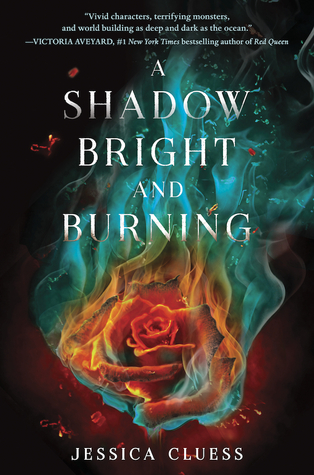 A Shadow Bright and Burning – Jessica Cluess
I am Henrietta Howel.
The first female sorcerer in hundreds of years.
The prophesied one.
Or am I?
Henrietta Howel can burst into flames.
Forced to reveal her power to save a friend, she's shocked when instead of being executed, she's invited to train as one of Her Majesty's royal sorcerers.
Thrust into the glamour of Victorian London, Henrietta is declared the chosen one, the girl who will defeat the Ancients, bloodthirsty demons terrorizing humanity. She also meets her fellow sorcerer trainees, handsome young men eager to test her power and her heart. One will challenge her. One will fight for her. One will betray her.
But Henrietta Howel is not the chosen one.
As she plays a dangerous game of deception, she discovers that the sorcerers have their own secrets to protect. With battle looming, what does it mean to not be the one? And how much will she risk to save the city—and the one she loves? 
Another one excited to read!! I love Victorian/Steampunky feels books and a romance! yay! I'm not a fan of love triangles however, so hopefully it doesn't absolutely take the story over. I am so not here for it. But other than that, I'm looking forward to reading this!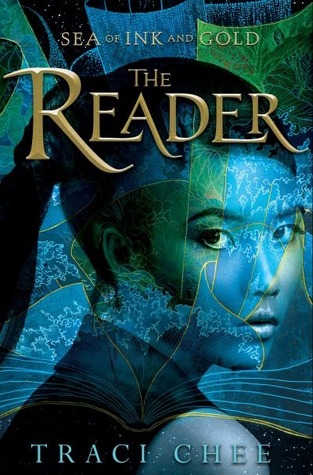 The Reader (Sea of Ink and Gold, 1) – Traci Chee
Sefia knows what it means to survive. After her father is brutally murdered, she flees into the wilderness with her aunt Nin, who teaches her to hunt, track, and steal. But when Nin is kidnapped, leaving Sefia completely alone, none of her survival skills can help her discover where Nin's been taken, or if she's even alive. The only clue to both her aunt's disappearance and her father's murder is the odd rectangular object her father left behind, an object she comes to realize is a book—a marvelous item unheard of in her otherwise illiterate society. With the help of this book, and the aid of a mysterious stranger with dark secrets of his own, Sefia sets out to rescue her aunt and find out what really happened the day her father was killed—and punish the people responsible. 
I find it intriguing the idea of an illiterate people. i know they exist in the world generally but I don't know, this book really does it for me. Or the blurb does at least! Also that cover is beautiful. 
Vassa in the Night – Sarah Porter
In the enchanted kingdom of Brooklyn, the fashionable people put on cute shoes, go to parties in warehouses, drink on rooftops at sunset, and tell themselves they've arrived. A whole lot of Brooklyn is like that now—but not Vassa's working-class neighborhood.
In Vassa's neighborhood, where she lives with her stepmother and bickering stepsisters, one might stumble onto magic, but stumbling out again could become an issue. Babs Yagg, the owner of the local convenience store, has a policy of beheading shoplifters—and sometimes innocent shoppers as well. So when Vassa's stepsister sends her out for light bulbs in the middle of night, she knows it could easily become a suicide mission.
But Vassa has a bit of luck hidden in her pocket, a gift from her dead mother. Erg is a tough-talking wooden doll with sticky fingers, a bottomless stomach, and a ferocious cunning. With Erg's help, Vassa just might be able to break the witch's curse and free her Brooklyn neighborhood. But Babs won't be playing fair. . . .
Now isn't that cover lovely? I know you aren't supposed to judge a book by its cover but I sometimes do and in recent years haven't book designers got better?? Round of applause for those designers who can make  the outside so beautiful and match up so well with the lovely stories inside. So this one, kingdom of Brooklyn? What? Who is the king? How did this happen. Also this sounds kind of fairytale-y and I like fairytale retellings (see: A Court of Thorns & Roses series)! So this should be a good one!!
Labyrinth Lost – Zoraida Cordova 
Nothing says Happy Birthday like summoning the spirits of your dead relatives.
I fall to my knees. Shattered glass, melted candles and the outline of scorched feathers are all that surround me. Every single person who was in my house – my entire family — is gone. 
Alex is a bruja, the most powerful witch in a generation…and she hates magic. At her Deathday celebration, Alex performs a spell to rid herself of her power. But it backfires. Her whole family vanishes into thin air, leaving her alone with Nova, a brujo boy she can't trust. A boy whose intentions are as dark as the strange markings on his skin.
The only way to get her family back is to travel with Nova to Los Lagos, a land in-between, as dark as Limbo and as strange as Wonderland…
So this sounds awesome, its described as Daughter of Smoke and Bone meets Beauitful Creatures. Dear lord, i love both those series so much, so yes yes yes give me more Smoke and Bone and Beauitful Creatures anytime. I love books steeped in culture, set in a world where things are the same but coloured by different beliefs and perceptions and when magic is different to the norm.  
 The Graces – Laure Eve
They moved through the corridors like sleek fish, ripples in their wake. Stares followed their backs and their hair. They had friends, but they were just distractions. They were waiting for someone different.
All I had to do was show them that person was me.
Well thats kind of creepy/terrifying. Books where the main character is desperate always seem to make a good thriller book and I love thrillers. I don't read enough though, I am usually distracted my something fantasy/sci-fi-esque! But this sounds mysterious and creepy, just how I like my magic-y thrillers!
And that concludes my anticipated September reads! My comments at the bottom of each blurb are probably unnecessarily excited but these books excite me! I do have two more that don't come out this year that I am super excited about though that I absolutely have to mention! So drrrrrum roll please!
---
Strange the Dreamer – Laini Taylor (Strange the Dreamer, 1)

Strange the Dreamer is the story of: 
the aftermath of a war between gods and men
a mysterious city stripped of its name
a mythic hero with blood on his hands
a young librarian with a singular dream
a girl every bit as perilous as she is imperiled
alchemy and blood candy, nightmares and godspawn, moths and monsters, friendship and treachery, love and carnage.
Welcome to Weep.
Okay so I know, I know this isn't out until next year (March to be exact, my birth month!) but oh my goddess, its LAINI TAYLOR. Do you know Laini Taylor? No? You don't? What have you been doing with yourself??? Daughter of Smoke and Bone has got to be one of the most, mentally BEAUTIFUL books. This woman writes poetry, she makes the most simplest thing seem beautiful and oh my god, i love that series so much. She writes, beautifully and after that series I will read literally anything she throws my way. Which is why I am so so so thrilled she's got a whole new book series coming out!!!!!
The Song Rising – Samantha Shannon
Following a bloody battle against foes on every side, Paige Mahoney has risen to the dangerous position of Underqueen, ruling over London's criminal population.
But, having turned her back on Jaxon Hall and with vengeful enemies still at large, the task of stabilising the fractured underworld has never seemed so challenging.
Little does Paige know that her reign may be cut short by the introduction of Senshield, a deadly technology that spells doom for the clairvoyant community and the world as they know it…
Okay – this series has got to be one of my utmost faves. Its so Victorian Era with tech. But not in a Steampunk way. I am excited and thrilled and ecstatic that this is ALSO out in March and I cannot wait to get my hands on it!!! (Just throwing this out there, just throwing it out there, boo!)